Doctor,


 What do holidays like Valentine's, Thanksgiving and Independence Day all have in common?



Besides the fact that they are important days to celebrate, spend with loved ones and reflect on how lucky we are to be healthy and in a profession where we can actually help others…

It's also a great time to build your business with holiday based promotions.

And I can show you how to do just that!



My name is Dr. Daron Stegall and along with Dr. Troy Counselman we have taught hundreds of doctors how to market and grow their practice through our books, private consulting and training programs.


And one of those marketing strategies that has proven time and time again to get New Patients through the door and Boost PVA is Call-to-Action Marketing Campaigns.


If you currently use Call-to-Action marketing in your office then you know how effective they are as an internal (and external) marketing strategy.

When done the right way, a "call to action" to your existing patients to refer loved ones in for a spine check or even just to get back in the office for an adjustment themselves is hands down the most effective way to fill up a schedule. AND tying the Call-to-Action promotion in with specific holidays and seasons is like supercharging the effectiveness of the marketing campaign.



I am proving it works right now!


Some of you may already know that I opened another clinic in 2012. Well the numbers are in. In the first year I brought in over 500 (561 to be exact ) new patients.


NOW….Keep in mind that I started with ZERO patients.


I didn't transfer some over with me, I didn't have some family members in the area that came in to help me get jump started.


I started with nada! Nothing! No-one!


Fast forward to this past July and thanks to a call-to-action referral campaign for Independence Day, I had 71 New Patients.

Is every month that high in NPs?? No way. April I had 52, May I had 41, and then in June I only had 30 (tough month!).
But I wasn't too worried because I knew I had a secret weapon for July – I rolled out my CTA campaign and tied it to Independence Day and BAM!


Now that's a great way to finish off my first year



HERE'S THE SECRET

So why did it work so well?


If you take nothing else away from reading this today, take this piece of advice because WAY too many clinics mess this up!

Do not have 'set call to action marketing' permanently in place. EVER!

Now some of you are going to disagree.

But I stand firm on this… Do not have a set referral incentive in place all the time.

If you do I believe you should stop it at the end of this month.

I honestly can't say that I have had an ongoing "call to action" marketing strategy work well over time or seen one work in any of my consulting clients' offices.

Human nature just won't let it work.

People get used to it and it doesn't have the luster that it did when you first started it.

BUT you can use this to your advantage!!

By essentially re-launching a new Call-to-Action marketing event 3 (maybe 4 at the most… maybe!) times a year, it will be perceived as NEW, EXCITING and GENERATE A BUZZ within your patient base and your community if you extend it beyond an internal marketing push.

That is the secret to a successful Call-to-Action campaign and when you add on a special celebration such as Spinal Health Month or Valentine's Day or Labor Day, etc., it has that much more effectiveness.

And that's what I will show you how to do in Supercharged Seasonal Marketing for Chiropractors. I will show you the same approach I use with every seasonal call-to-action campaign I do.


I share it all from A-Z


AND I even created a special separate training module that gives you the step by step formula for my most successful holiday based marketing campaign I do every year – it's called Holiday Food Drive Done Right.
Help your community while making November and December literally your two busiest months of the year.
It's fun… It's team building… It's good for the community and of course it's a practice building powerhouse.
If you have steered clear of Holiday Based Marketing in the past, you are missing the boat on what can easily be your biggest months of the year.

Every Seasonal Promotion we Teach we have Done!

Keep in mind that everything I show you I have done in my own clinics and those of clients year after year refining them each year so that they just keep becoming more and more successful.
Troy and I take on the responsibility of helping chiropractors reach the level of success they, and our profession, deserve.
Therefore, we will only tell you how to do things we have done.
It's also why we have a no-hassle money back guarantee policy. We don't want you to have something that doesn't work well for your practice or you just don't want to implement for whatever reason. Any reason!



We Offer a 30 Day No-Hassle Money Back Guarantee

 Supercharged Seasonal Marketing for Chiropractors tells you…
-  How to create a Call To Action marketing campaign that stimulates referrals and gets existing patients back in



- Which seasons and holidays are best to connect your CTA to that have proven to work best for me over the years



-  How to promote the CTA campaign

* The Keys are 1. Knowing the most effective (and cost effective) marketing methods AND 2. the sequence for getting the marketing out


And because of how important and impactful the Holiday Food Drive CTA campaign is for your community and practice growth, as a bonus I have created a separate training for this altogether.
You will learn EVERYTHING needed to run successful Seasonal Marketing Campaigns.
And do it without all the trial and error and expense of creating these marketing campaigns on your own.
We have done the hard part for you and refined them until they work.
You just need to figure out what promotional offer you want to extend (or just go with one we provide) and then follow our proven steps on how put it in front of your patients and stimulate them to take action.


We really have made it that simple!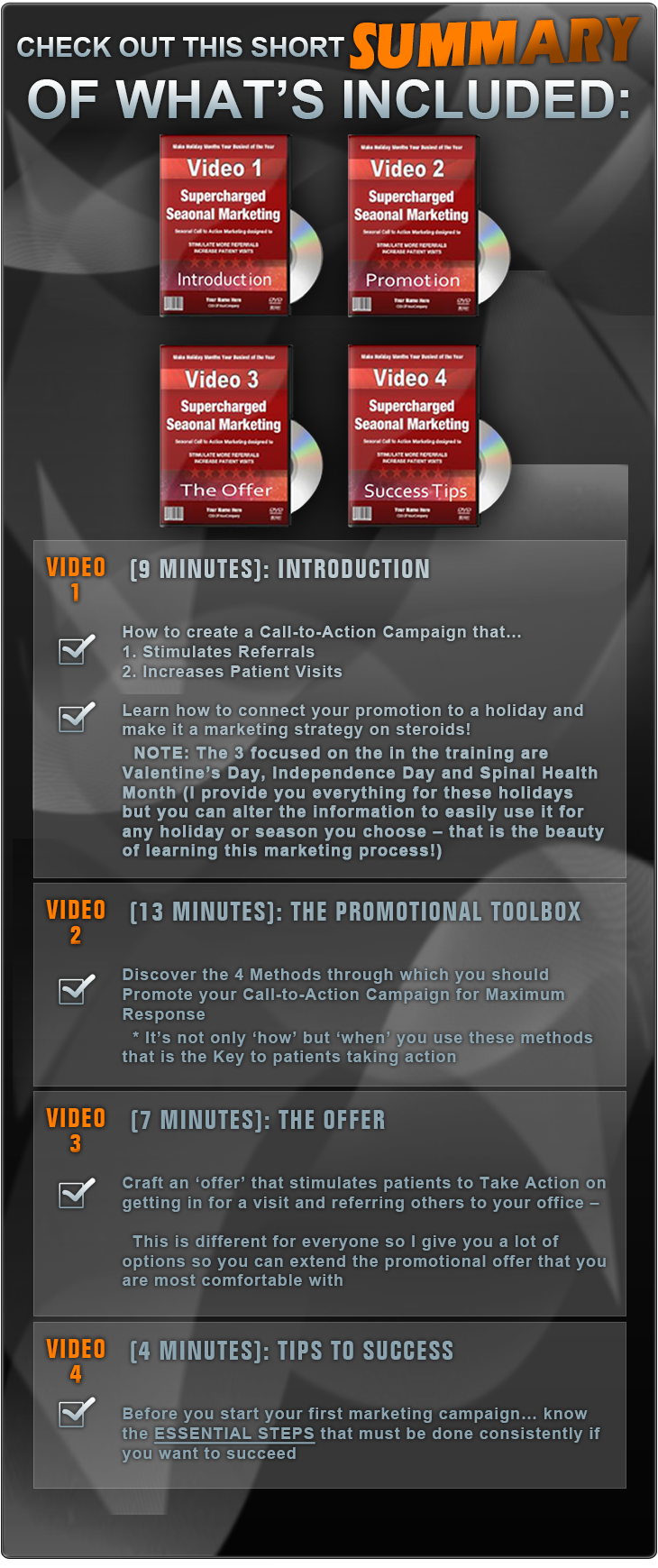 As you can see I have kept the videos short and to the point so you or an assigned staff person can be ready to get your first call to action campaign going in less than an hour.
And while I focus on February (Valentine's Day), July (Independence Day) and October (Spinal Health Month) in the above training… because it is marketed a little differently than the other Holiday based marketing, I have created a separate training for November… It's called Holiday Food Drive Done Right.
I'll be the first to admit that I resisted doing a Holiday Food Drive in my clinic for years – many years ago – but once I started and over time I have done it every year since.
If you aren't currently doing a Food Drive every year or don't have it set up in a way that truly grows your practice then don't miss it this year! It just works to well to pass it up.
Now… that is NOT to discount doing it just as a community event for gathering the food items that are needed more than ever during the holiday season.
I GET THAT …
What I am saying is that if you're going through the effort to help the community, it might as well grow your clinic like wildfire in the process.
And besides, the more people that are coming in, the more food items you collect and the more successful the food drive is.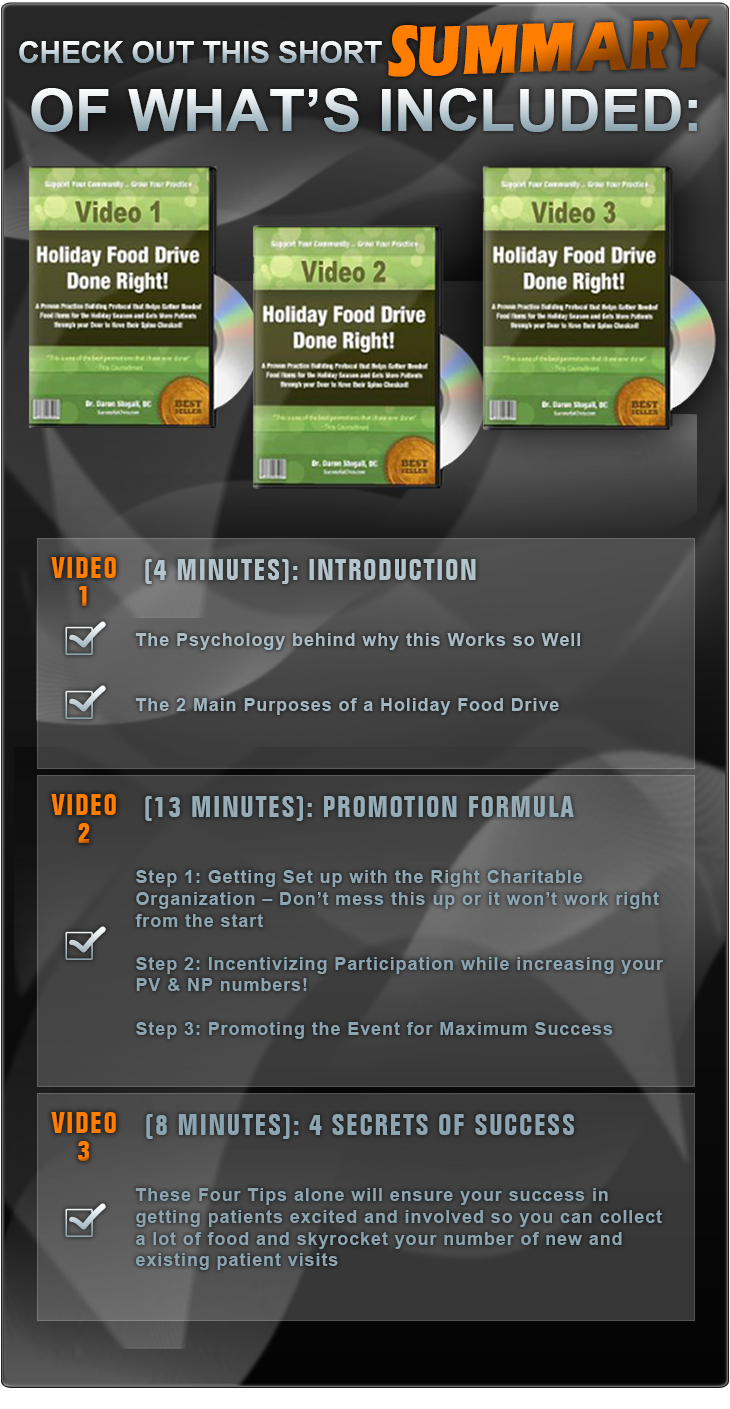 In a nutshell, I will show you how to make a Holiday Food Drive ultra-successful .
And I show you how to do it in a way that is not a lot of extra work for your clinic. You aren't going to be hauling food all over the place or counting cans every day. That was my fear back when I started this but I have eliminated all those steps.
The charity and patients do most of the work. You are just serving as a drop off location for the food items and checking all the new patients referred in for the 'item donation first visit special.' – And of course getting them onto a chiropractic plan of care.
Now that is truly helping the community.


My Goal is ALWAYS to Make Implementing these Proven Marketing Strategies a QUICK and PAINLESS process
 

As you will notice these videos are kept short so you can easily knock them out in a day. No Fluff… Just the Essential Information to get these proven marketing strategies in place quickly.
But it doesn't stop with the training videos.
To ensure you have everything needed to succeed…
…We give you All the Marketing Materials needed to succeed. And they are created in an easy to edit Word Format complete with a promotional offer already on them. Just add your clinic name and make any quick changes if you choose and you're ready to start pushing new patients through the door!
And as an insane bonus I created a Cheat Sheet for each of the marketing programs: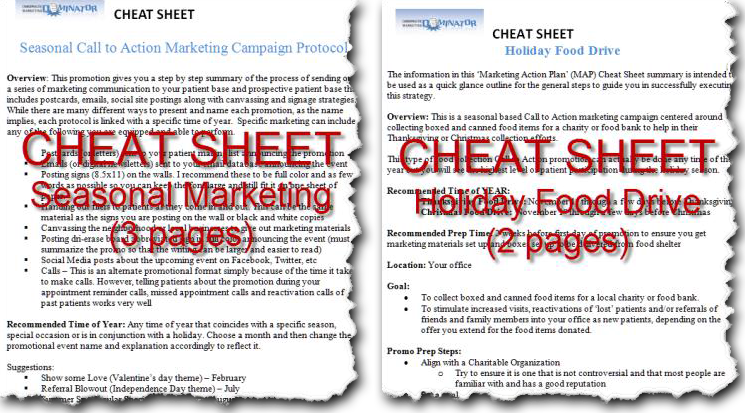 Once you've gone through the training videos, there's no sense in wasting time referring back to them each time you run a holiday marketing campaign. That's where these cheat sheets come into play. These 2-3 page step by step summaries show you how to implement the programs without diving into the details that are in the videos.
It just doesn't get much easier than that!


That All Sounds Great AND Expensive!

For proven practice building marketing strategies that are shown to you in easy to follow videos, transcripts of those videos and of course all the Marketing Materials pre-made for you, our regular price of $399 would be a steal.

After all, even just a couple of new patients or a few extra visits from existing patients would pay for this program.

However, for this well organized and easy to follow training (and special bonus Cheat Sheets that will save you and your staff more time than you can imagine)… we have decided to set the price at $229 for the entire program – a savings of over 40%!

BUT IT GETS BETTER! As a special launch price for this new program, we are knocking down all the barriers that would even remotely prevent you from purchasing these proven marketing protocols.

See Special Introductory Offer below!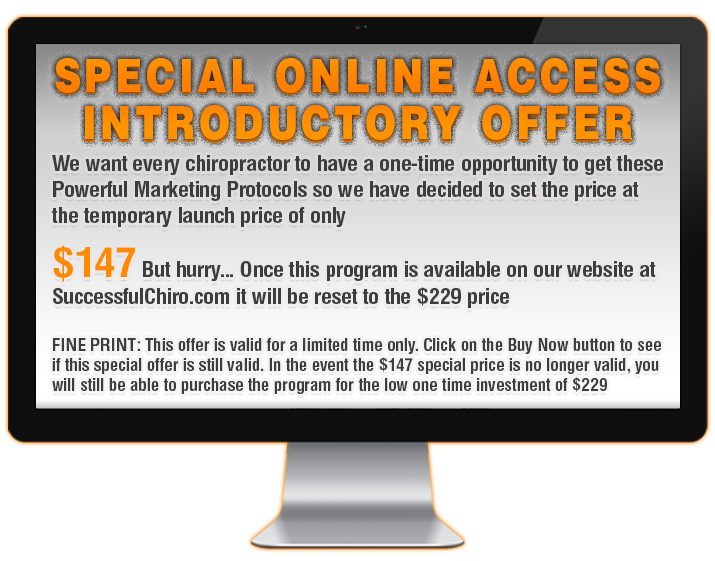 Simply click the button below and you are moments away from a program that will give you 4 holiday marketing protocols you can use year after year to dramatically increase your patient visits and new patient referrals into the clinic.




Everything you need is included…
- Training Videos explaining how to do these Call to Action Holiday Marketing Campaigns and MORE IMPORTANTLY… How to Make them Work
- Marketing Materials complete with Promotion Names and the Special Offers but also created so you can easily modify them with your clinic name and phone number and different offer should you choose
- Cheat Sheets that lay it all out in just a couple of pages. Pull these out a couple of weeks before the month you are going to run your promotion and follow them step by step! And you get it all at more than
60% off the already discounted price.


If you have bought any of our other trainings then you know how well organized and easy to follow they are. We leave no stone unturned and because we are still practicing chiropractors using this same stuff in our clinics… we know it works! It's tested – Not theory
Please keep in mind this is a time sensitive offer and there is a Money Back Guarantee.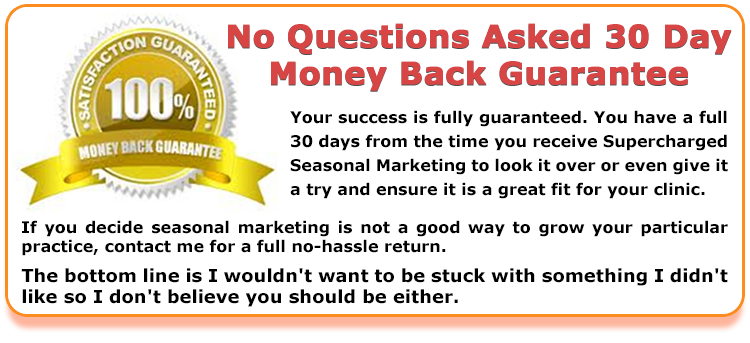 Simply click the button below and you are moments away from a program that will give you 4 holiday marketing protocols you can use year after year to dramatically increase your patient visits and new patient referrals into the clinic.




The sooner you run a Supercharged Seasonal Marketing campaign, the sooner your PV and NP stats will get a jolt in the right direction!
To Your Success!
Daron Stegall, DC


DISCLAIMER: This is a limited time new product release OFFER FOR ONLINE ACCESS ONLY TO SUPERCHARGED SEASONAL MARKETING at a deeply discounted price. We will only honor this discounted pricing for the first 80 purchasers. Once we have reached this number, you will be able to find Supercharged Seasonal Marketing at www.SuccessfulChiro.com for the already discounted price of $229. Note: If you would rather have the physical DVDs for this marketing strategy, they are part of the full Patients to Profits program which retails for $1997 and can be found at www.PatientstoProfits.com.